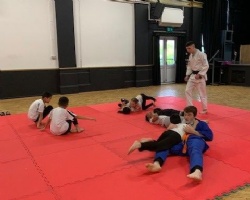 On Thursday 21st October 2022, a GSSP school participated in a judo experience at Shooters Hill College. The experience was designed to provide children with an opportunity to learn some new skills in a sporting area less familiar to the children whilst having lots of fun in the process!
What those in attendance had to say….
"I really like judo and I want to come every week"
(Year 4 pupil)
"A great opportunity to offer something different to our less sporty children"
(Teacher)
"Great to see our children getting taught by coaches that have represented Great Britain"
(Teaching Assistant)
Thank you........
To the PE lead, school staff and all children for their effort and enthusiasm. A final huge thank you to Metro Judo Club for their expert coaching throughout the experience.
We look forward to seeing everyone at future events!