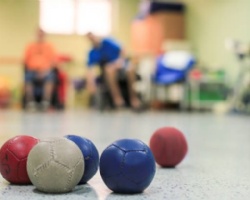 On Tuesday 9th November 2021, the GSSP delivered a staff-pupil SEND multi-skills training event at Shooters Hill College. The event was designed to provide school staff and SEND children and with an opportunity to learn some new skills in a number of different paralympic sports less familiar to children whilst having lots of fun learning new sports and developing fundamental movement skills in the process!
What those in attendance had to say….
"I love sitting volleyball the best, its so fun"
(Year 5 pupil)
"We love coming to these events and our children have really enjoyed themselves"
(Support Staff)
"Been great to try out these activities and I have really enjoyed learning and playing boccia with the children"
(Teaching Assistant)
Thank you........
To PE leads, school staff and for bringing the children and engaging in the activities offered. A final huge thank you to the children for the effort and enthusiasm throughout the event!
We look forward to seeing everyone at future events!