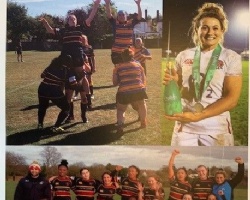 On Thursday 7th October 2021, several GSSP schools participated in a primary tag-rugby tournament at Old Colfeians. The competition helped to develop participants rugby skills through game-play and was coached and refereed by Old Colfeians rugby staff.
What those in attendance had to say….
"I've loved playing today and it's been good to play against other schools"
(Year 6 pupil)
"Our first competition for a long time and it's been fantastic. Thank you to everyone that has helped organise this"
(Teacher)
"Not only have our children loved playing but the coaches from Old Colfeians have helped us learn some new rugby drills. Thank you!"
(Teaching Assistant)
Thank you........
To PE leads, school staff and all children for their effort and enthusiasm. A final huge thank you to Old Colfieans RFU for coaching the children and school staff!
We look forward to seeing everyone at future events!