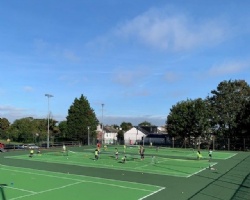 On Thursday 23rd September 2021, several GSSP schools participated in a tennis festival at Shooters Hill College. The event was designed to train children and school staff in specific skills and techniques to develop the sport within the PE curriculum or at extra-curricular clubs.
What those in attendance had to say….
"Ive really enjoyed playing tennis for the first time today"
(Year 5 pupil)
"Some really fun activities that I will start to use in my PE lessons"
(Teacher)
"Our children are so excited to be on a trip and its great to have had this opportunity. They've really enjoyed playing"
(Teaching Assistant)
Thank you........
To PE leads, school staff and all children for their effort and enthusiasm. A final huge thank you to Twist Fizz for coaching the children and school staff!
We look forward to seeing everyone at future events!