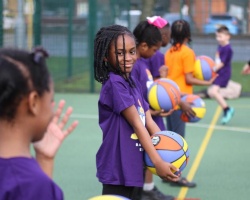 On Tuesday 11th February 2020, a number of GSSP schools participated in a basketball experience at Shooters Hill College.
The event was designed to train children and school staff in specific skills and techniques to develop the sport within the PE curriculum or at extra-curricular clubs.

What those in attendance had to say….
"Shooting was my favourite part and I scored 4 baskets today"
-Year 5 Pupil
"Great to learn some new games that I can introduce back at our school"
-Teacher
"Our children have had lots of fun today and have really improved their shooting, thank you"
-Teaching Assitant