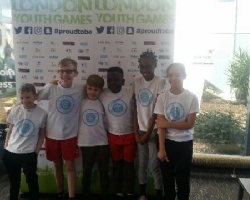 Greenwich finished 2nd in the London Youth Games' Sitting Volleyball Competition!
Timbercroft Primary School represented Greenwich during the Sitting Volleyball Finals that took place on Wednesday 27th February, after winning the GSSP-led competition held at Plumcroft Primary School.
The group of 6, who sported GSSP t-shirts, put in a great team effort to finish 2nd overall.
A massive well done to everybody who took part, and to all those who also participated in the Sitting Volleyball competition in January!