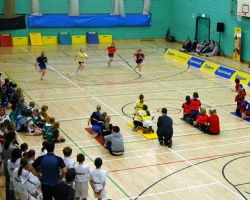 On Tuesday 15th October 2019, a few GSSP schools participated in Sportshall Athletics Training at Shooters Hill Sixth Form College.
The event was designed to train children and school staff in the performance of sportshall athletics events that could be used to develop the PE curriculum / competitions.
What those in attendance had to say….
"A good chance to see how the events are run and how we could adapt these to fit into our PE curriculum"
-Teacher
"I loved the relays and trying to improve my javelin throw"
-Year 6 Pupil
"Very helpful and something our school is looking to run as a lunchtime and breakfast
-Teaching Assistant