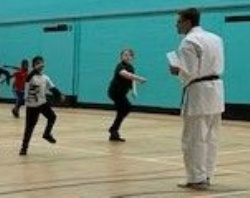 On Tuesday 21st January 2020, a few GSSP schools participated in a karate experience training at Shooters Hill College.
The event was designed to showcase the benefits of karate to children and school staff. The event displayed how karate can embed positive values based around the National Curriculum and help show how martial arts can be involved in the PE curriculum / clubs.
What those in attendance had to say….
"Our Children has had a thoroughly great time and I really enjoyed seeing them so engaged"
-Teaching Assistant
"My favourite activity was learning Japanese and how to block"
-Year 4 Pupil
"Something our school have really enjoyed and we will be looking into whether this is something we can continue back at the school"
-Teaching Assistant