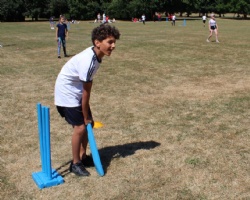 On Wednesday 27th June 2018, a number of Greenwich primary schools participated in a cricket competition at Charlton Park.
The competition was led by Greenwich Cricket coaches, with a special thanks to Harry Sampson and Chris Swadkin for helping to organising the event!
Congratulations….
Championship: Winners: Brooklands; Runners up: Plumcroft.
Plate: Winners: Thorntree; Runners up: Gallions mount
Bowl: Winners: Greenslade; Runners up: Gordon
And finally…
PE Leads / supervising staff and all children involved for bringing such enthusiasm and a huge thank you to the Greenwich Cricket for hosting the event.