Available and Upcoming Student Camps and Academies
The below workshops and opportunities are displayed on behalf of other organisers, and are not always associated*, or the responsibility of, the Greenwich School Sports Partnership.
DSActive sport programme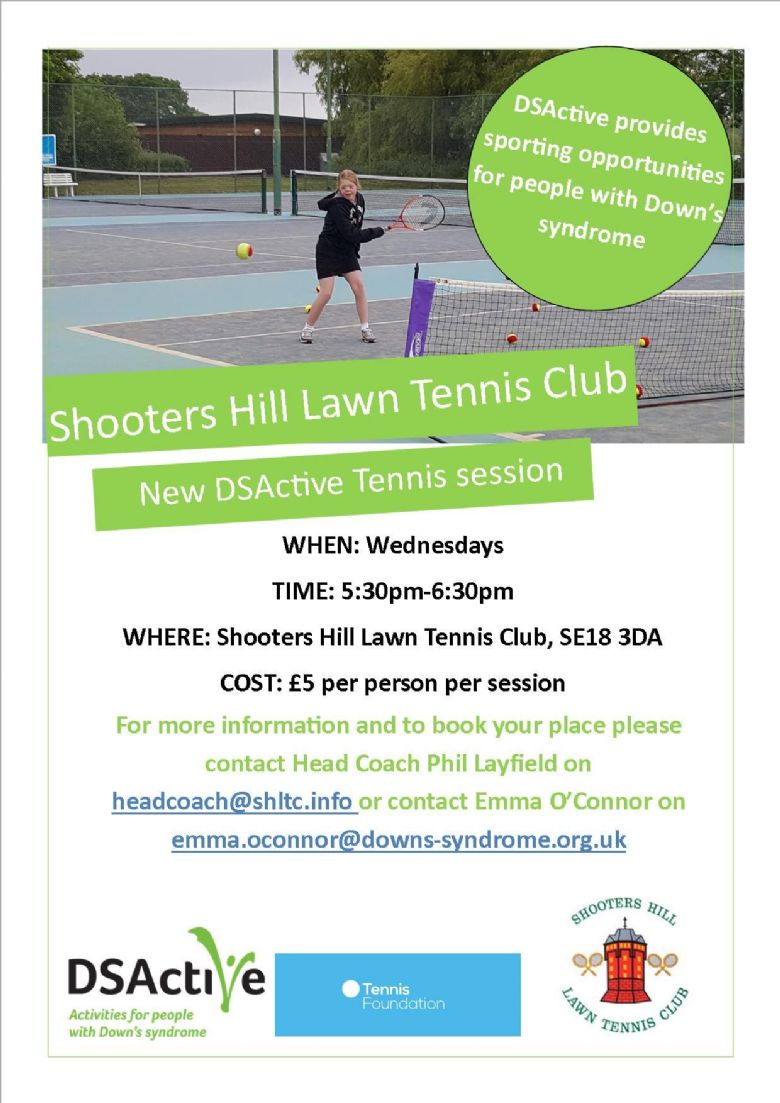 Background Information
DSActive is a sports programme for people with Down's syndrome administered by the Down's Syndrome Association (DSA). DSActive currently have over 40 football sessions and 20 tennis programmes that run over England and Wales. All of the programmes are easily accessible and cater for ALL ages and ability.
DSActive are running DSActive Tennis sessions at Shooter Hill Tennis Club.
When: Wednesdays 5:30pm - 6:30pm
Where: Shooters Hill Lawn Tennis Club - SE18 3DA
For more information or to book your place, please contact Head Coach Phil Layfield - headcoach@shltc.info or Emma O'Connor - emma.oconnor@downs-syndrome.org.uk
AIS Summer holiday academies
---
Ages: 5-11 years
Times: 9:00am - 3:30pm
Cost: £145 for the whole week / £30 per day
---
This unique after school and holiday programme is based around Track and Field athletics. It's an excellent opportunity for boys and girls to mentally and physically challenge themselves; developing speed, strength, and stamina whilst working with a range of Olympic and Paralympic athletes over 1 to 5 days. (This can run in the summer holidays or as an after-school club before the school breaks up).
The academy would allow students to participate in 10 different athletics events, alongside classroom based, educational sports lessons.
The academies would be run by Team GB athletes, who are very experienced and hugely enthusiastic. These athlete role models offer nothing but encouragement and help to create a competitive learning environment for children, where they will make friends, have fun, and be truly inspired.
For more information, visit: http://aisacademy.co.uk/services/
---
If they can get 100 Children on the camp they will give 20% of the profits back to the school!
---
Inclusive Cricket

The Lord's Taverners run both table cricket and Super 1s in the Greenwich area. These two programmes are both focused on engaging young disabled people in cricket and are delivered by Kent County Cricket Board.
For more information on how your school can get involved, contact head of cricket programmes, Henry.
Fire Fighter Fit Kids

FFFK have set up a kids fitness program based on fire fighting/fire safety and a range of other situations that firefighter face.
The programme is designed to get kids active in a fun inspiring way and promote positive role models whilst battling the alarming rate of childhood inactivity.

Recently, they have made 20 online workouts that cover a range of themes that include nutrition, hydration and wellbeing.
For more information regarding the programme please view the attachments at the bottom of the page, or visit www.firefighterfitkids.co.uk
School swimathon 2019
School Swimathon is a swimming programme for primary school children, aimed at increasing swimming activity and supporting Swim England's vision that every child should learn to swim before they leave primary school. Now in its seventh year, the programme is designed to sit alongside national curriculum swimming lessons and encourage children to swim their best.
Taking place throughout the 2019 Spring Term, pupils take on an initial challenge in January and then use their weekly national curriculum swim lessons to improve their swim distance. Pupils will then try to swim further than ever before, in a final challenge at the end of the Spring Term!
Here is how School Swimathon 2018 helped pupils to swim their best:
72% of children who took part improved their distance over the course of the spring term
75% of children (2,724) swam 25m or more in their final challenge session - a huge improvement from 51% of children who could swim further than 25m in the initial session
Registration and access to online resources is free, including certificates to download and present to your pupils. There is a small £20 delivery fee for optional School Swimathon materials, including wall charts, limited edition swim caps and embroidered achievement badges.
If you would like your school to get involved, please sign up below.
Afpe london region: primary pe conference
The conference, entitled 'PE at the Heart of School Life' involves a day of learning and networking, specifically focusing on high quality physical education. Network with fellow teachers, build subject knowledge, leadership skills and discuss effective initiatives and common issues.

View the full programme HERE.

Date & Venue: Wednesday, 12th June 2019 at Berger Primary School, Anderson Road, London, E9 6HB.

Who is it aimed at? Anyone within primary schools who has a connection with PE: Headteachers, Senior Leaders, Governors, Subject Leads, PE Teachers, PE Coordinators and Class Teachers.

Delegate Fees:
Hackney Primary Schools - £55.00
London Primary Schools - £85.00
N.B. afPE members (individuals and/or schools) receive a 20% discount on the above rates

To book, please complete the booking form below and return to John I'Anson (j.ianson45@btinternet.com).

DOWNLOAD A BOOKING FORM HERE.
Team 100 charlton

Project
Team100 Charlton is a community-led volunteer project based in and around Charlton. Supported by Access Sport, the project is designed to engage new group of volunteers to local sport and physical activity. Team100 is shifting away from traditional roles such as sports coaches at clubs (although they are still so important!) and creating new, local roles such as play coordinators, walk/cycle leaders, social media, marketing, catering and more! Make a difference. Join the team.
Event - #ActiveCharlton (Monday 17th - Friday 21st June 2019)
Team100 Charlton's annual celebration event where volunteers will work with local schools and community groups to get the community more active. There are loads of different activities taking place throughout the week such as Bike Buses, Play Streets, Walking Buses, Dancing, Mindfullness, Yoga and more. If you are interested in supporting this week in any way - if it its leading walks, helping us recruit volunteers, supporting cycling, designing flyers, get in touch.
Make a difference. Join the team.
Access Sport
T: 020 7993 9883
E: jake.tullett@accesssport.co.uk
W: www.accesssport.org.uk
Soccer aid - playground challenge

Play. Fundraise. Change children's lives.
Design a Soccer Aid obstacle course with your pupils and raise money to help children everywhere grow up healthy, happy and able simply to play. Just like children should.
Sign up to be a part of Soccer Aid and receive a free fundraising pack and teaching activities.
the children's health project ambassador training and scheme of work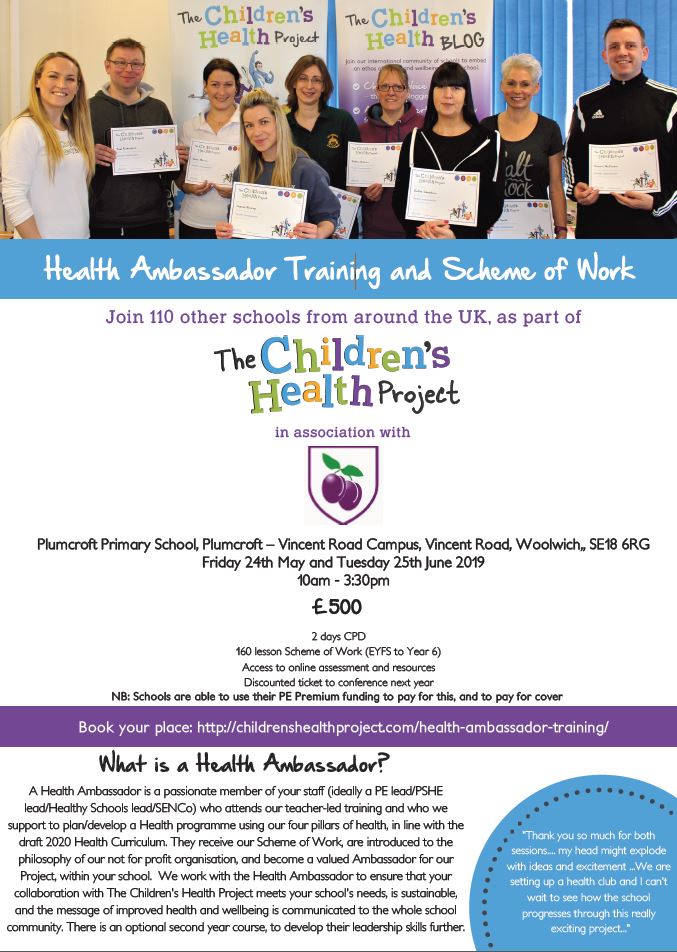 Football at samuel montague youth centre

- 11th of June 2019 (Times TBC)
- Year 5/6 Girls Football
- 12 players (9 playing + 3 Subs)
- 18th of June 2019 (Times TBC)
- Year 5/6 Best Boys Football - Round 1
-12 players (9 playing + 3 Subs)
-25th of June 2019 (Times TBC)
-Year 5/6 Best Boys Football - Round 2
- 12 players (9 playing + 3 Subs)
Both best boys tournaments are linked, the points gained in round 1 will be continued into round 2!
All of these tournaments are taking place at Samuel Montague Youth Centre (122 Broad Walk, Kidbrooke, SE3 8ND) - 4G Astro Pitch. All children must be wearing suitable footwear (trainers/boots) and Shin pads.
For more info / entries please contact:
Sam Rogerson (PE Staff - Nightingale Primary School)
lyg's 2019 summer cultural opportunities

Sign up and be part of the London Youth Games 2019 Summer Cultural Programme:
Fanfest- A chance for children in Year 3 - Year 6 to get involved in a variety of sports and cultural activities!
Date: Thursday 4th July 2019.
Venue: Crystal Palace NSC. If you are interested, please sign up here or email sport@londonyouthgames.org if you have any questions.

Inclusive Fanfest- Open to all Primary and Secondary schools and community groups across London. It is an inclusive event and we welcome applications from schools with children who have physical, sensory or learning impairments to try out a variety of sports activities.
Date: Thursday 27th June 2019.
Venue: Redbridge Sports Centre. Please sign up here or email elysia@londonyouthgames.org if you have any questions.

LYG Got Talent- The return of LYG's talent competition! An amazing opportunity for Primary and Secondary school children to showcase their talents. The winning act will perform on stage at the LYG Summer Finals Opening Ceremony. Find out more information and how to enter here or email media@londonyouthgames.org with any questions.
The school run - summer challenges 2019

"The summer term is finally upon us and with that comes sunny days and hopefully more time to get outside and give pupils more opportunities to get active. At the School Run, it's our busiest time of year with schools entering a number of our challenges, combining them with sports days and special weeks. We have listed our main challenges below but, remember, if you would like something bespoke, please get in touch via email - ukschoolrun@gmail.com "
Women's world cup - school resources

In partnership with the FA, the Youth Sport Trust has created some exciting, free of charge resources themed around England's Lionesses which can be used throughout your whole school. The resources, for both primary and secondary, cover curriculum areas including English and Maths as well as PE, and correspond to one or more of the Lionesses' values. They are also linked to young people's personal development. Please have a look at this flyer which shows the fantastic range of content there is.
This is a brilliant opportunity to use the power of a major sporting event to inspire pupils up and down the country and create a swell of support for our national team. The resources can be used at any time during the event which runs from 7 June to 7 July, so please go online and get involved.
It's really easy to sign up and download the resources at www.girlsfootballinschools.org.
*Workshops and other training opportunities that are hosted and related to the GSSP will be clearly indicated. Opportunities that are not listed as GSSP are not conducted by the Greenwich School Sports Partnership, and the Partnership holds no accountability for these events.