Available and Upcoming Student Camps and Academies
The below workshops and opportunities are displayed on behalf of other organisers, and are not always associated*, or the responsibility of, the Greenwich School Sports Partnership.
YST VIRTUAL AFTER SCHOOL CLUB

The Youth Sport Trust have taken the step to deliver a free virtual after school club as part of a national response to the second lockdown. The 30-minute club will take place at 5pm each weekday and be led by a different member of the YST's athlete mentor network, starting on Thursday 12 November with world no.1 female inline skater and 10-time British Champion Jenna Downing.

Aimed mainly at primary-aged children, a different theme has been assigned for each day of the club - Adventure Monday, Tuesday Play, Wild Wednesday, Thinking Thursday and Fun Friday. The YST hope that this will provide support, capacity and inspiration to the School Games network and sit alongside the other great work and offers that are available for schools and children and young people to engage in. If you are running your own virtual after school clubs, then please do share your practice via #BackToSchoolGames and @greenwichssp.
Woolwich inclusive yoga

When: Every Tuesday 5:00-6:00pm
Where: The Tramshed, Woolwich New Road, SE18 6ES
Who: All disabilities/abilities welcome
Age: 5-16 years old
Cost: First session free - £3 thereafter
Participants will receive their own yoga matt to keep and to bring each session
Must sign up before attending - https://forms.gle/dsHce5KGwpw5ufwj6
For more info/questions – ignite@accesssport.co.uk or 020 7993 9883
INCLUSIVE MULTI-SPORT CLUB (Cray wanderers)

When: Every Thursday, 5:00-6:00pm
Where: The Sporting Club Thamesmead, SE28 8NJ
Who: Suitable for all disabilities/abilities
Age: 6-16 years
Cost: Free - £3 thereafter
Must sign up before attending - https://forms.gle/A7UeZxfjqygEwhXC8
For more info/questions – ignite@accesssport.co.uk or 020 7993 9883
chance to shine - black history month

As Black History Month starts across the world, national children's charity Chance to Shine is providing schools with the tools they need to celebrate Black British cricketers.
The new resources for Primary and Secondary Schools focus on highlighting the importance and the success of the Black players who have represented England since Roland Butcher made his debut in 1980. As well as encouraging pupils to learn about some of the Black stars of the game, the charity has also prepared practical, physical education sessions that reinforce the learning through fun, cricket skills-based activities that discuss the importance of inclusion and diversity in sport.
Classroom 'Learn' Lessons
A series of fun lessons that aim to support young people to increase their understanding of the contributions of Black players to English cricket, supporting learning in a range of areas including Literacy, PSHE and drama.
- Primary School:
Active Learning 'Play' Session
A session that combines learning with active cricket skills and games. The session can be used by KS1-3 and has differentiation and age suitability advice in the instructions.
greenwich get active

RBRBG have launched the new Greenwich Get Active digital platform and activity finder. Please check it out here: https://greenwichgetactive.com
This site offers lots of different ways you can get active outdoors, indoors, with others, on you own or even digital tools that can help boost your fitness and wellbeing!
Meridian SSC Girls' Football League
For the third year of running, the Meridian SSC Girls' Football League will be commencing soon! This year there is the added bonus of having the winner of the league represent Greenwich at the London Youth Games!!
The league runs on a Wednesday between 4-5pm (two matches to be played in this time) and it is 9-a-side with usual football rules (apart from no offside). There will be two referees, however, you may be asked to referee some of your games. The matches are all played at Meridian Sports and Social Club, Charlton Park Lane, London, SE7 8QS and are played on 3G Astroturf pitches. Girls may wear moulded stud boots and shin pads are compulsory. The league usually starts after Christmas but if there is a large number of schools wishing to entering it may begin before.
If you would like to join the league can you please email Ben Waller (PE Lead - Invicta Primary School):
b.waller@invictaprimary.co.uk
Bee Netball Coaching Opportunity
Bee Netball Coaching Opportunity
England Netball have recently launched a new programme called Bee Netball aimed at 5-11 year olds and we are really excited that this is being added to our Team Up London Offer for primary schools.
What is Bee Netball?
A programme for 5-11 year olds all about friendship, inclusion, fair play and playing together. It's not about how good children are, it's about how hard they try to Bee! Bee Netball is not just a game, but a framework for children to get a great start in life through learning valuable skills including social, emotional and teamwork, all through netball. Bee Netball isn't complicated, it's simply a way to enable children to play the game while learning and developing a whole heap of other important skills.
To find out further information about Bee Netball and to sign your school up for more information beyond our free delivery click here.
What is our offer?
Free 6 hours Coaching: Schools will receive 6 hours of free coaching in whatever format they would like; during curriculum time or a lunchtime or afterschool club. They can also have all 6 hours on one day and expose the whole school to Bee Netball, 3 weeks x 2 hours, 2 weeks x 3 hours or 6 weeks x 1 hour whatever works best for them.
Coach: A member of England Netball Coaching staff or a Qualified Netball Coach will come and deliver this on our behalf, we are able to provide copies of DBS certificates and Coaching Qualifications.
Equipment: Schools will be provided with a Bee Netball Equipment Pack including balls and bibs as well as a Bee Netball resource pack which includes session plans so you can continue with Bee Netball beyond your free delivery.
Venue: We will come to the school and deliver the netball in the school hall or playground, wherever normal sporting activities take place
Bee Netball Workshop: Free places on a 3 hour Bee Netball Workshop for teachers and parent helpers
What do we ask for in return?
We have at least one teacher present (preferably more) who will join in the sessions, this is so that they receiving some CPD whilst learning off the coach delivering in order to make them more confident to deliver Bee Netball once we have moved on.
Their help with our monitoring of the programme and to let us know the number and ages of the participants who took part in the Bee Netball sessions as well as the number of teachers exposed to the programme.
How do schools sign up?
Visit www.teamupengland.com and click signup/login on the grey tab in the top right hand corner
Once signed up and logged in, click on the 'support tab' followed by 'London funding'
Scroll right to the bottom of the 'London Schools' page you should now be on and click on 'Apply for Support'
Complete the Questionnaire and wait to hear back from us
For further information please contact Alice Moger at England Netball; alice.moger@englandnetball.co.uk
junior netball clubs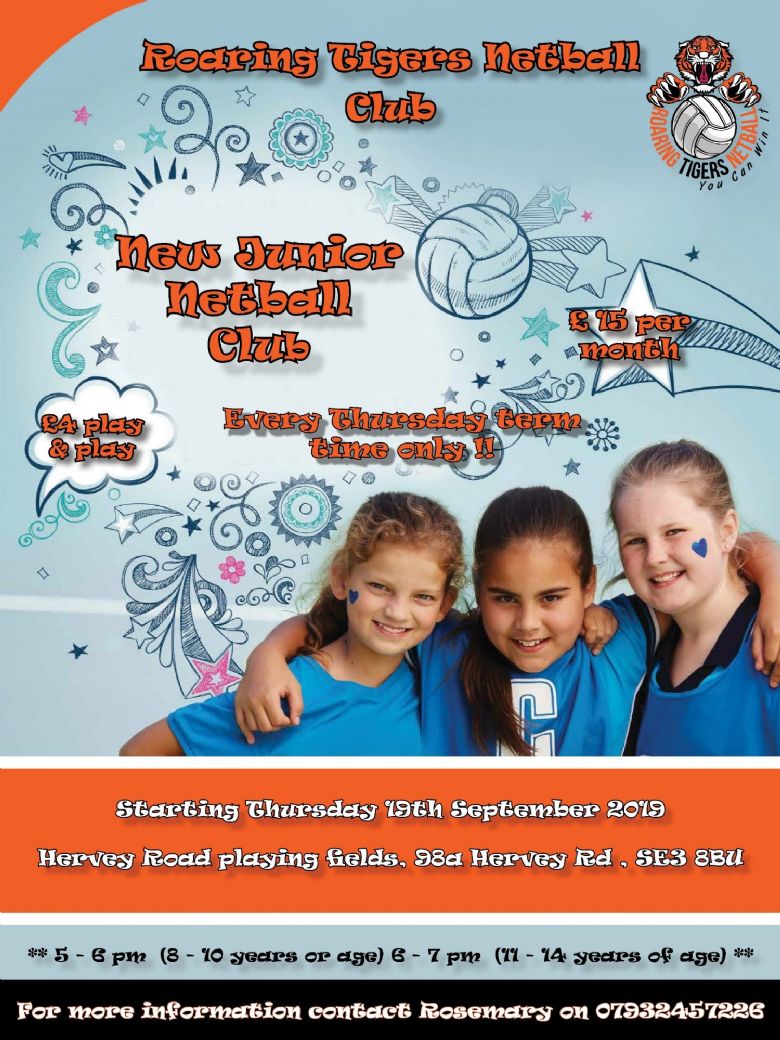 DSActive sport programme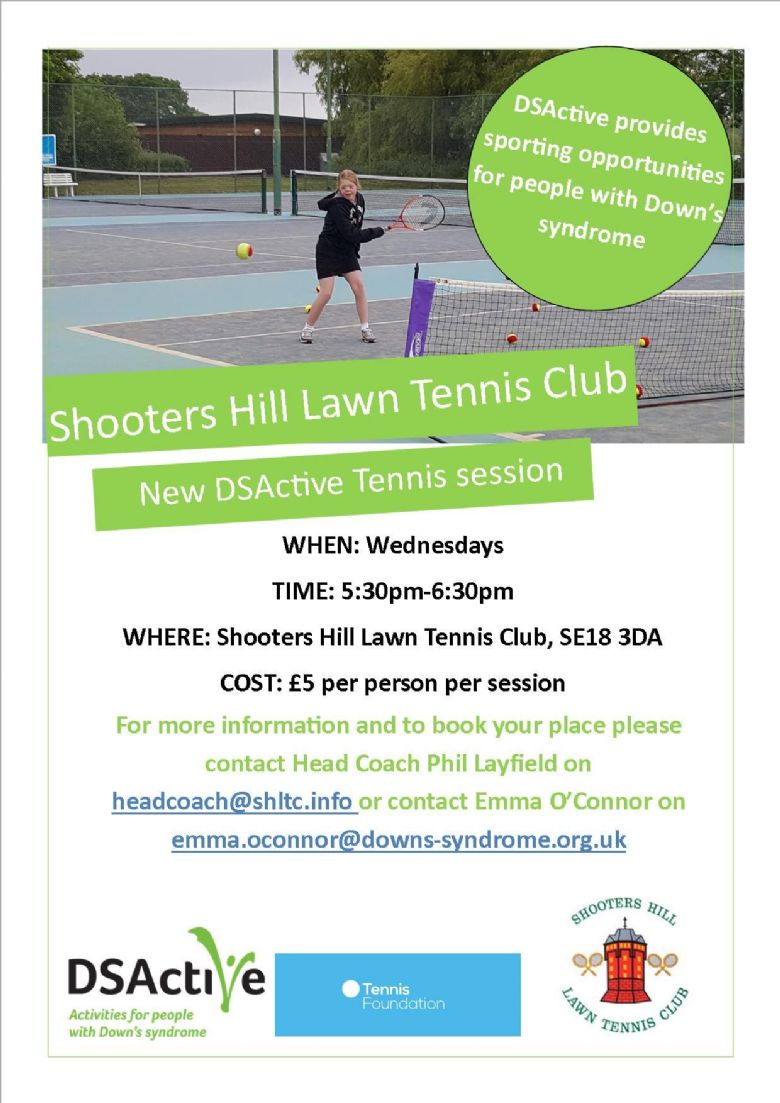 Background Information
DSActive is a sports programme for people with Down's syndrome administered by the Down's Syndrome Association (DSA). DSActive currently have over 40 football sessions and 20 tennis programmes that run over England and Wales. All of the programmes are easily accessible and cater for ALL ages and ability.
DSActive are running DSActive Tennis sessions at Shooter Hill Tennis Club.
When: Wednesdays 5:30pm - 6:30pm
Where: Shooters Hill Lawn Tennis Club - SE18 3DA
For more information or to book your place, please contact Head Coach Phil Layfield - headcoach@shltc.info or Emma O'Connor - emma.oconnor@downs-syndrome.org.uk
Inclusive Cricket

The Lord's Taverners run both table cricket and Super 1s in the Greenwich area. These two programmes are both focused on engaging young disabled people in cricket and are delivered by Kent County Cricket Board.
For more information on how your school can get involved, contact head of cricket programmes, Henry.
Fire Fighter Fit Kids

FFFK have set up a kids fitness program based on fire fighting/fire safety and a range of other situations that firefighter face.
The programme is designed to get kids active in a fun inspiring way and promote positive role models whilst battling the alarming rate of childhood inactivity.
Recently, they have made 20 online workouts that cover a range of themes that include nutrition, hydration and wellbeing.
For more information regarding the programme please view the attachments at the bottom of the page, or visit www.firefighterfitkids.co.uk
Soccer aid - playground challenge

Play. Fundraise. Change children's lives.
Design a Soccer Aid obstacle course with your pupils and raise money to help children everywhere grow up healthy, happy and able simply to play. Just like children should.
Sign up to be a part of Soccer Aid and receive a free fundraising pack and teaching activities.
*Workshops and other training opportunities that are hosted and related to the GSSP will be clearly indicated. Opportunities that are not listed as GSSP are not conducted by the Greenwich School Sports Partnership, and the Partnership holds no accountability for these events.