Available and Upcoming Student Camps and Academies
The below workshops and opportunities are displayed on behalf of other organisers, and are not always associated*, or the responsibility of, the Greenwich School Sports Partnership.
Raising money for the nhs
Our Football Academy partners The EDSV Academy are raising money for the NHS Together Charity to help support the incredible NHS workers during this time.
On Friday 10th April, all EDSV staff and students will be running 1.5k to show their support for this worthy cause.
Any support will be hugely appreciated. Please donate if you can:
Active Sussex Education - Be Active at Home Special Edition
A Be Active at Home Special Edition
In the event of school closures, several companies and individuals have put together resources to help teachers encourage pupils to be active at home and continue their Physical Education learning.
Healthy Futures

Healthy Futures will, in the event of school closures due to the coronavirus, provide a weekly food & activity log plus daily exercise videos to keep children active.

They are working with a number of organisations to create their daily home exercise videos & will also be sending out a resource pack which will include: Fitness & Sporting Challenge Cards & Active Monopoly!

To receive these free resources straight to your inbox, click the following link...
---
Succeedin PE
Succeedin PE & the PE Suite are offering schools an easy way to give their families PE, physical activity games & sports ideas should schools be closed.

All you have to do as a school is send the following link home to your families & they can begin accessing the content. This link will be managed & updated by the Succeedin PE team in the event of schools being closed, the great thing is schools won't need to do anything once the families have the link.
---
imoves

imoves are offering every teacher the opportunity to sign up for their students to get free access to the imovement platform at home. Pupils can stay active & healthy even if they can't go to school.

The platform offers fun, active learning resources that change daily & much more!
---
Cosmic Kids Yoga & Mindfulness
Free online videos that can be watched & followed at home by children, adults & families alike.

Access themed yoga lessons, mindfulness activities & relaxation sessions from the comfort of your home.
---
Real Play at Home
Create Development are making their real play at home resource free for any family to access whilst schools are closed. Click here to view the real play at home video & preview what this looks like.

Any school interested should send an expression of interest email to:
---
AfPE: The Importance of Being Active

This leaflet contains information specifically for parents on the importance of keeping their children active.

It provides information on what outcomes children will get from an active lifestyle along with some tips on what parents can do to encourage activity.
---
The Body Coach
Joe Wicks, The Body Coach, has produced a number of short, fun workout videos especially for children.

The videos are available on The Body Coach YouTube TV channel along with videos that adults/parents can access too.
---
Questr
Questr Scan & Seek have created an area on their website with free active English & Science games for parents & kids.

The activities will give parents the opportunity to support their children to have fun while they continue to learn at home.
---
BBC Super Movers
The BBC Super Movers website contains a host of free online videos & fun curriculum linked resources to get children moving while they learn.

The videos feature a plethora of professional sportsmen & women as well as celebrities to engage children even further.

Don't forget: it is Super Movers Day on Thursday 19 March, find out more here.
---
Go Noodle
Anyone can access these free online videos that encourage children to be active & have fun.

They engage 14 million kids every month with movement and mindfulness videos created by child development experts. Available for free at school, home & everywhere kids are!
---
Change 4 Life

The NHS Change 4 Life website has a host of videos, activities & resources for parents and pupils to use alike.

The resources encourage physical activity, healthy eating & even include healthy family dinner recipies.
---
#StayInWorkOut
Finally, one for you teachers. Sport England have compiled some of the most useful tips on how you can get active when you're at home, if you're well enough.

If you've found a great way to keep active online, use the hashtag #StayInWorkOut on social media to share it with others.
LTA Staff Tennis Workshop - cancelled
Date: Tuesday 9th June 2020
Time: 9.30am – 11.30am
Venue: Shooters Hill Sixth Form College (Sports hall)
Schools: Greenwich Primary Schools
Participants: Staff only
Focus: This brand new LTA tennis course is based on innovative content, which has been developed by teachers for teachers, to help you deliver outstanding PE lessons with confidence.
As well as teaching fundamental movement skills and physical literacy, tennis is a great way of developing personal and character skills. The course demonstrates how tennis can be delivered to a whole class of children in a small space and how it can be adapted and differentiated for all learners. Activities focus on both improving pupils' physical and character skills.
Every teacher attending the course receives a free pack of resources including: an activity flipbook, pupil achievement certificates and stickers.
Finally, teachers attending the course (limited to one per school) will receive a £250 voucher to spend on 10 hours free coaching with a local LTA Accredited Coach!
The course is aimed at both qualified and trainee primary school teachers, as well as teaching assistants who are involved in delivering or supporting physical education in a primary school environment.
To book onto your local course please click here
2020 fina diving world series
Your school has the opportunity to apply for tickets to join the FINA World Diving Series for the first day of thrilling diving performances at the FINA Diving World Series taking place at the iconic London Aquatics Centre, Queen Elizabeth Olympic Park.
The 2020 FINA Diving World Series event will take place from 27- 29 March. Returning to London for a second year in a row, the competition will welcome the world's best divers and will see around 70 athletes from 14 countries compete over three days of thrilling action.
Don't miss THE last chance to see Jack Laugher, Tom Daley, Grace Reid and the British Diving team compete on home soil before they make their mark at Tokyo 2020.
All students, teachers and chaperones will be entitled to complimentary tickets to Session One on Friday 27 March at 12pm.
To claim your tickets please email Georgina Coulson (britishevents@swimming.org) at British Swimming with quantities needed for your school. Deadline for ticket requests is Friday 13 March. Unfortunately, due to the limited number of tickets available not all requests will be fulfilled.
Once British Swimming have confirmed your ticket allocation, you will be given wristbands in advance of the event.
On the day of the event, your school will be assigned a dedicated host to ensure you have an enjoyable experience.
Free rugby equipment for your school and more!

Time to pull on your boots and prepare to get muddy!
With the Six Nations competition starting on Saturday 1st February, we're excited to announce we have teamed up with England Rugby to bring you some excellent powerpoints, worksheets, colouring and more to excite your students in the lead up to the competition!

And guess what? All the resources are free! Including our Twinkl Move Tag Rugby Resources, perfect for your upcoming PE sessions!
VIRGIN MONEY LONDON MARATHON: 'INSPIRING ACTIVITY' AT THE 40TH RACE
WIN A PLACE FOR YOUR SCHOOL IN THE 2020 VIRGIN MONEY LONDON MARATHON
For more information, or to apply, download the attached titled 'London Marathon 2020...' at the bottom of the page.
Swimathon 2020
Entries for Swimathon 2020 are now open and at their lowest price ever, with 50% off!
Dates: 27th - 29th March 2020
For more information, visit: www.swimathon.org
Meridian SSC Girls' Football League
For the third year of running, the Meridian SSC Girls' Football League will be commencing soon! This year there is the added bonus of having the winner of the league represent Greenwich at the London Youth Games!!
The league runs on a Wednesday between 4-5pm (two matches to be played in this time) and it is 9-a-side with usual football rules (apart from no offside). There will be two referees, however, you may be asked to referee some of your games. The matches are all played at Meridian Sports and Social Club, Charlton Park Lane, London, SE7 8QS and are played on 3G Astroturf pitches. Girls may wear moulded stud boots and shin pads are compulsory. The league usually starts after Christmas but if there is a large number of schools wishing to entering it may begin before.
If you would like to join the league can you please email Ben Waller (PE Lead - Invicta Primary School):
b.waller@invictaprimary.co.uk
Bee Netball Coaching Opportunity
Bee Netball Coaching Opportunity
England Netball have recently launched a new programme called Bee Netball aimed at 5-11 year olds and we are really excited that this is being added to our Team Up London Offer for primary schools.
What is Bee Netball?
A programme for 5-11 year olds all about friendship, inclusion, fair play and playing together. It's not about how good children are, it's about how hard they try to Bee! Bee Netball is not just a game, but a framework for children to get a great start in life through learning valuable skills including social, emotional and teamwork, all through netball. Bee Netball isn't complicated, it's simply a way to enable children to play the game while learning and developing a whole heap of other important skills.
To find out further information about Bee Netball and to sign your school up for more information beyond our free delivery click here.
What is our offer?
Free 6 hours Coaching: Schools will receive 6 hours of free coaching in whatever format they would like; during curriculum time or a lunchtime or afterschool club. They can also have all 6 hours on one day and expose the whole school to Bee Netball, 3 weeks x 2 hours, 2 weeks x 3 hours or 6 weeks x 1 hour whatever works best for them.
Coach: A member of England Netball Coaching staff or a Qualified Netball Coach will come and deliver this on our behalf, we are able to provide copies of DBS certificates and Coaching Qualifications.
Equipment: Schools will be provided with a Bee Netball Equipment Pack including balls and bibs as well as a Bee Netball resource pack which includes session plans so you can continue with Bee Netball beyond your free delivery.
Venue: We will come to the school and deliver the netball in the school hall or playground, wherever normal sporting activities take place
Bee Netball Workshop: Free places on a 3 hour Bee Netball Workshop for teachers and parent helpers
What do we ask for in return?
We have at least one teacher present (preferably more) who will join in the sessions, this is so that they receiving some CPD whilst learning off the coach delivering in order to make them more confident to deliver Bee Netball once we have moved on.
Their help with our monitoring of the programme and to let us know the number and ages of the participants who took part in the Bee Netball sessions as well as the number of teachers exposed to the programme.
How do schools sign up?
Visit www.teamupengland.com and click signup/login on the grey tab in the top right hand corner
Once signed up and logged in, click on the 'support tab' followed by 'London funding'
Scroll right to the bottom of the 'London Schools' page you should now be on and click on 'Apply for Support'
Complete the Questionnaire and wait to hear back from us
For further information please contact Alice Moger at England Netball; alice.moger@englandnetball.co.uk
junior netball clubs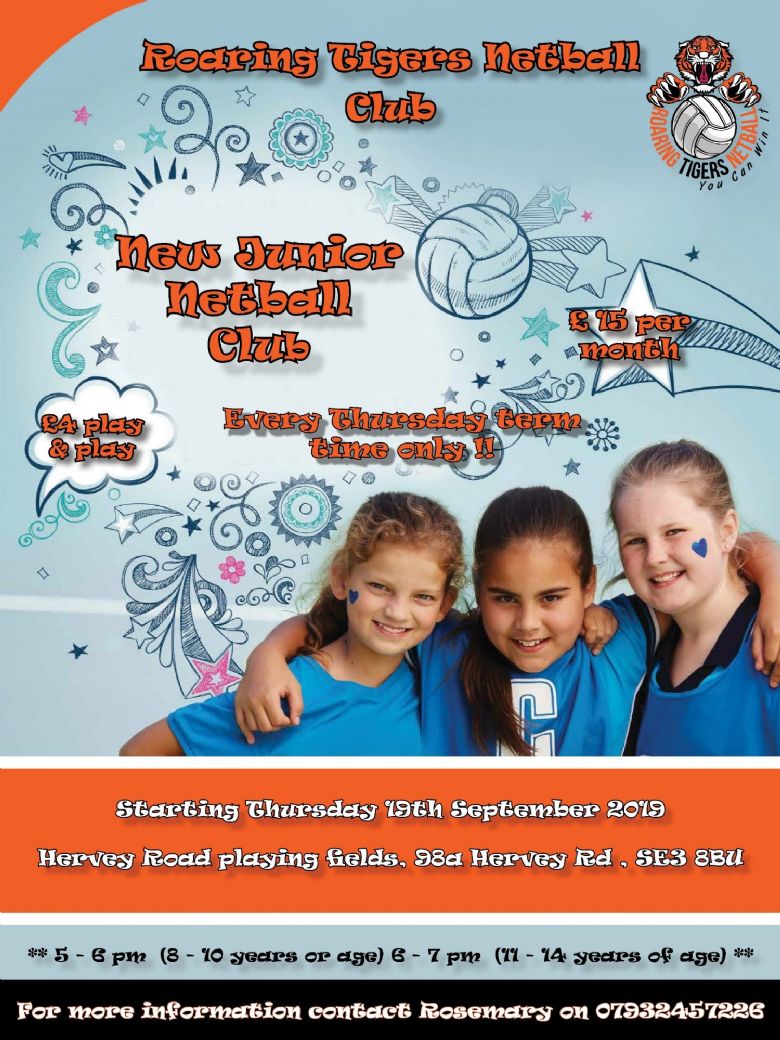 DSActive sport programme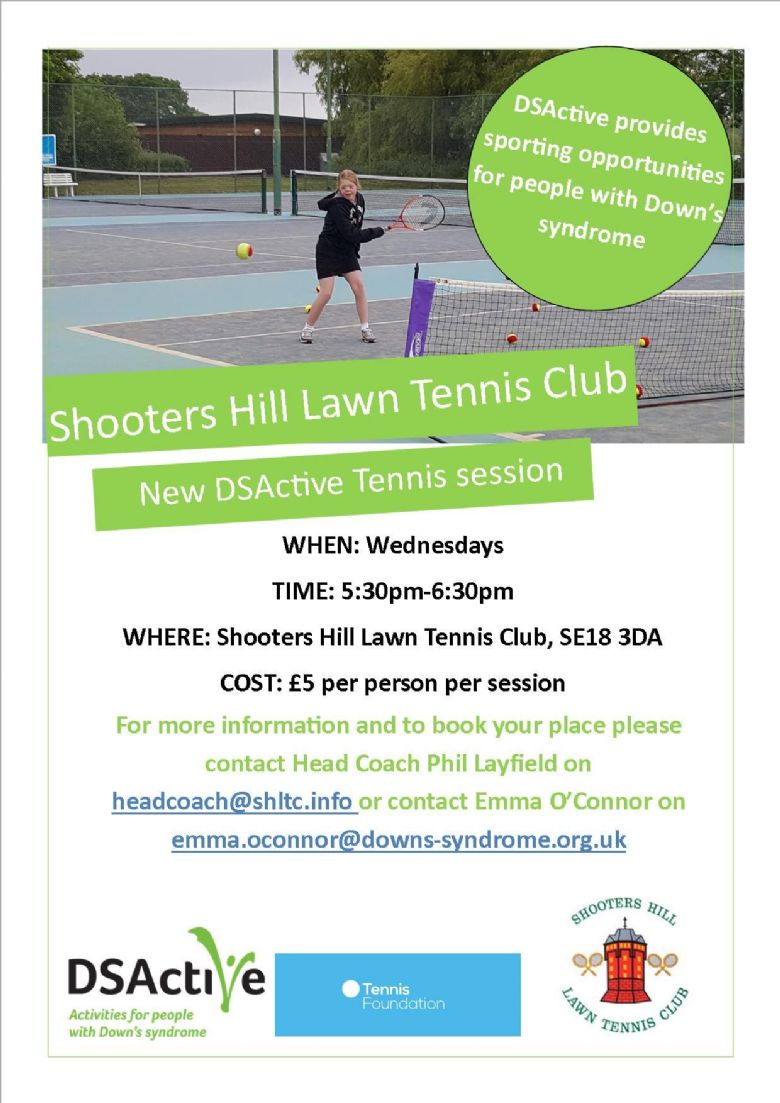 Background Information
DSActive is a sports programme for people with Down's syndrome administered by the Down's Syndrome Association (DSA). DSActive currently have over 40 football sessions and 20 tennis programmes that run over England and Wales. All of the programmes are easily accessible and cater for ALL ages and ability.
DSActive are running DSActive Tennis sessions at Shooter Hill Tennis Club.
When: Wednesdays 5:30pm - 6:30pm
Where: Shooters Hill Lawn Tennis Club - SE18 3DA
For more information or to book your place, please contact Head Coach Phil Layfield - headcoach@shltc.info or Emma O'Connor - emma.oconnor@downs-syndrome.org.uk
Inclusive Cricket

The Lord's Taverners run both table cricket and Super 1s in the Greenwich area. These two programmes are both focused on engaging young disabled people in cricket and are delivered by Kent County Cricket Board.
For more information on how your school can get involved, contact head of cricket programmes, Henry.
Fire Fighter Fit Kids

FFFK have set up a kids fitness program based on fire fighting/fire safety and a range of other situations that firefighter face.
The programme is designed to get kids active in a fun inspiring way and promote positive role models whilst battling the alarming rate of childhood inactivity.
Recently, they have made 20 online workouts that cover a range of themes that include nutrition, hydration and wellbeing.
For more information regarding the programme please view the attachments at the bottom of the page, or visit www.firefighterfitkids.co.uk
Soccer aid - playground challenge

Play. Fundraise. Change children's lives.
Design a Soccer Aid obstacle course with your pupils and raise money to help children everywhere grow up healthy, happy and able simply to play. Just like children should.
Sign up to be a part of Soccer Aid and receive a free fundraising pack and teaching activities.
*Workshops and other training opportunities that are hosted and related to the GSSP will be clearly indicated. Opportunities that are not listed as GSSP are not conducted by the Greenwich School Sports Partnership, and the Partnership holds no accountability for these events.